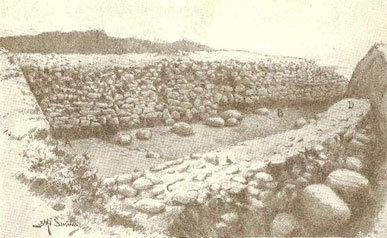 From the imagined Numantia to archaeological evidence: the fortifications of the Late Iron Age
Raquel Liceras Garrido (ES)

ORC

iD
Sergio A. Quintero Cabello (ES)

ORC

iD
Alfredo Jimeno (ES)

ORC

iD
PYRENAE, vol. 54 núm. 1 (01.2023) (p. 83-104)
DOI: 10.1344/Pyrenae2023.vol54num1.4
El estudio de las fortificaciones de la segunda Edad del Hierro del oppidum de Numancia (Garray, Soria) ha estado enormemente influido por la percepción mítica de la ciudad debido al papel que jugó en los enfrentamientos contra Roma durante la segunda Guerra Celtibérica (154-133 a.n.e.). Este trabajo sintetiza los testimonios de los autores grecorromanos y las excavaciones arqueológicas llevadas a cabo durante el siglo XX para caracterizar, analizar y reflexionar sobre los sistemas defensivos de esta ciudad celtibérica.
PALABRAS CLAVE: POLIORCÉTICA, EDAD DEL HIERRO, PROTOHISTORIA DE LA MESETA NORTE, NUMANCIA, GUERRAS CELTIBÉRICAS, MURALLAS
L'estudi de les fortificacions de la segona Edat del Ferro de l'oppidum de Numància (Garray, Soria) ha estat enormement influït per la percepció mítica de la ciutat a causa del paper que va jugar als enfrontaments contra Roma durant la segona Guerra Celtibèrica (154-133 a.n.e.). Aquest treball sintetitza els testimonis dels autors grecoromans i les excavacions arqueològiques dutes a terme durant el segle XX per caracteritzar, analitzar i reflexionar sobre els sistemes defensius d'aquesta ciutat celtibèrica.
PARAULES CLAU: POLIORCÈTICA, EDAT DEL FERRO, PROTOHISTÒRIA DE LA MESETA NORD, NUMÀNCIA, GUERRES CELTIBÈRIQUES, MURALLES

The understanding of the Late Iron Age fortifications of the oppidum of Numantia (Garray, Soria) has been heavily influenced by the mythical perception of the city due to the role played in the confrontations against Rome during the Second Celtiberian War (154-133 BC). This article offers a synthesis of the accounts of Greco-Roman authors and the evidence from archaeological excavations carried out during the 20th century to characterise, analyse, and comment on the nature of the defensive systems of this Celtiberian city.
KEYWORDS: MILITARY DEFENCE, IRON AGE, PROTOHISTORY OF THE NORTH MESETA, NUMANTIA, CELTIBERIAN WARS, WALLS