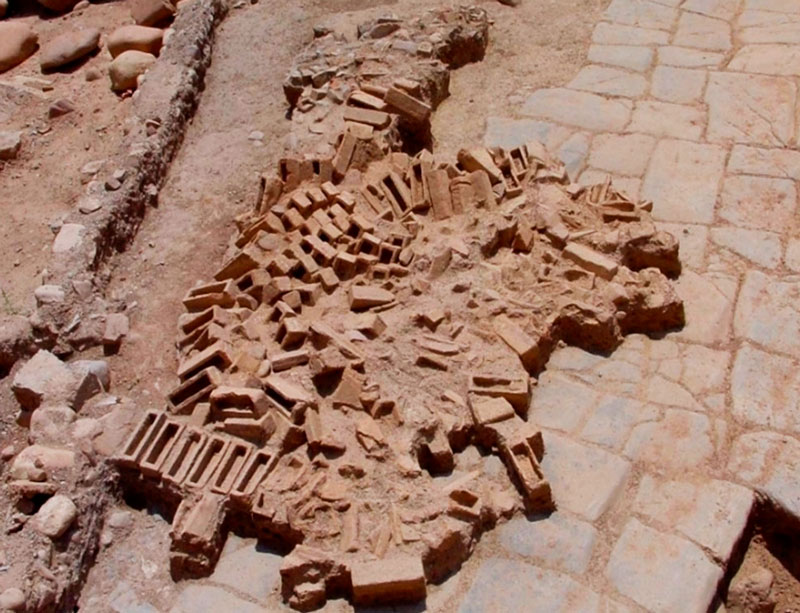 The Roman houses outside the walls of the 'plaza de la Morería'. Aspects of domestic architecture in the north-eastern part of the city of Sagunto in the Late Empire
Josep Benedito-Nuez (ES) ORC iD
José Manuel Melchor-Monserrat (ES) ORC iD
Juan José Ferrer-Maestro (ES) ORC iD
PYRENAE, vol. 53 núm. 2 (07.2022) (p. 145-168)
DOI: 10.1344/Pyrenae2022.vol53num2.6
La imagen monumental de la ciudad de Saguntum en época imperial es muy conocida gracias sobre todo a los estudios realizados desde principios del siglo pasado. Hoy en día, disponemos de información detallada acerca de su urbanismo, una ciudad de alrededor de 60 ha con edificios públicos de carácter administrativo, de espectáculos, honoríficos, etc. Contamos además con datos precisos que informan de la planificación del viario, con calles enlosadas flanqueadas con pórticos, así como de la red de alcantarillado público. Pero faltaba completar esta imagen de la ciudad con el estudio de las edificaciones de carácter privado, las domus. En este artículo vamos a tratar de describir las principales particularidades de la arquitectura doméstica que, en Saguntum, caracteriza el mantenimiento de la actividad constructiva en la ciudad en el siglo III. Estos hallazgos aportan nuevos elementos de estu¬dio para contextualizar diversos aspectos de una de las principales ciudades romanas de la vertiente mediterránea peninsular.
PALABRAS CLAVE: SAGVNTVM, DOMVS, URBANISMO ROMANO, BAJO IMPERIO
La imatge monumental de la ciutat de Saguntum en època imperial és molt coneguda gràcies sobretot als estudis realitzats des de principis del segle passat. Avui dia disposem d'informació detallada sobre el seu urbanisme, una ciutat d'unes 60 hectàrees amb edificis públics de caràcter administratiu, d'espectacles, honorífics, etc. Comptem a més amb dades precises que informen de la planificació del viari, amb carrers enllosats flanquejats amb pòrtics, així com de la xarxa de clavegueram públic. Però faltava completar aquesta imatge de la ciutat amb l'estudi de les edificacions de caràcter privat, les domus. En aquest article tractarem de descriure les principals particularitats de l'arquitectura domèstica que, a Saguntum, caracteritza el manteniment de l'activitat constructiva a la ciutat al segle III. Aquestes troballes aporten elements d'estudi nous per contextualitzar diversos aspectes d'una de les principals ciutats romanes del vessant mediterrani peninsular.
PARAULES CLAU: SAGVNTVM, DOMVS, URBANISME ROMÀ, BAIX IMPERI
The monumental architecture and corresponding image of the city of Saguntum in Roman Imperial times is very well known, thanks mainly to the studies carried out since the beginning of the last century. We now have additional detailed information about its urban planning, a city of around 60 hectares with public buildings of administrative, entertainment and honorary nature, among others. We also have precise data that provide us with information about the planning of the road system, with paved streets flanked by porticoes, as well as the public sewage system. But this image of the city is still incomplete, as it lacks a study of the private buildings, the domus. This paper seeks to describe the main characteristics of the domestic architecture that was a major feature of continued building activity in the city of Saguntum in the 3rd century. These findings contribute to research in this field as they provide new means to help contextualise various aspects of one of the main Roman cities on the Mediterranean coast of the Iberian Peninsula.
KEYWORDS: SAGVNTVM, DOMVS, ROMAN URBANISM, LATE EMPIRE