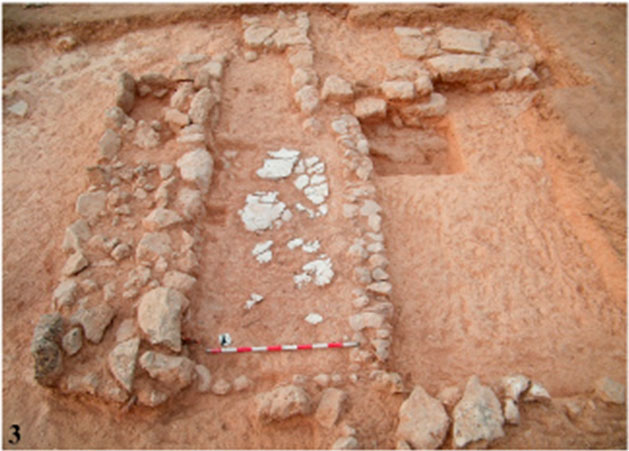 Casa de la Cabeza (Requena, Valencia), a rural settlement from 2nd-1st centuries BC. Continuity vs change between the Iberian and Roman periods
David Quixal Santos (ES)
ORC
iD
Consuelo Mata Parreño (ES)

ORC

iD
Vanessa Albelda Borrás (ES

)
Yolanda Carrión Marco (ES)

ORC

iD
Guillem Pérez Jordà (ES)
ORC
iD
Adrián Pérez Reyes (ES)
Leandro Sancho Cebrián (ES)
José Manuel Torregrosa Yago (ES)
PYRENAE, vol. 53 núm. 2 (07.2022) (p. 33-63)
DOI: 10.1344/Pyrenae2022.vol53num2.2
La Casa de la Cabeza es un asentamiento rural de los siglos II-I a. C., integrado en el territorio de la ciudad ibérica de Kelin (Caudete de las Fuentes, València), en la Meseta de Requena-Utiel. Su estu¬dio permite avanzar en el conocimiento de los cambios acaecidos en el poblamiento rural indígena con posterioridad a la conquista romana. A pesar de que encontramos en él algunas características nuevas, sin duda resultantes del contexto histórico y de las condiciones generadas por la ocupación romana, el asentamiento y sus equipamientos presentan una fuerte continuidad con las estructuras rurales de la fase anterior (siglos IV-III a. C.), dentro de la línea general continuista del territorio hasta el marco de las guerras sertorianas.
PALABRAS CLAVE: ARQUEOLOGÍA IBÉRICA, EDAD DEL HIERRO, HÁBITAT RURAL, ROMANIZACIÓN, RESILIENCIA CULTURAL, METALURGIA
La Casa de la Cabeza és un assentament rural dels segles II-I a.C., integrat al territori de la ciutat ibèrica de Kelin (Caudete de las Fuentes, València), a la Plana d'Utiel-Requena. El seu estudi permet avançar en el coneixement dels canvis esdevinguts al poblament rural indígena amb posterioritat a la con-questa romana. Tot i que hi trobem algunes característiques noves, sens dubte resultants del context històric i de les condicions generades per l'ocupació romana, l'assentament i els seus equipaments presenten una forta continuïtat amb les estructures rurals de la fase anterior (segles IV-III a.C.), dins de la línia general continuista del territori fins al marc de les guerres sertorianes.
PARAULES CLAU: ARQUEOLOGIA IBÈRICA, EDAT DEL FERRO, HÀBITAT RURAL, ROMANITZACIÓ, RESIL·LIÈNCIA CULTURAL, METAL·LÚRGIA
The site of Casa de la Cabeza is a rural settlement of the 2nd-1st centuries BC, forming part of the ter¬ritory of the Iberian city of Kelin (Caudete de las Fuentes, Valencia), in the Requena-Utiel Plateau. Its study allows to improve our knowledge of the changes that occurred in rural indigenous settlement after the Roman conquest. Despite the fact that we find new characteristics, undoubtedly resulting from the historical context and the conditions generated by the Roman conquest, the settlement and its equipment demonstrate strong continuity with the rural structures of the previous phase (4th-3rd centuries BC), following the general line of continuity of the territory until the context of the Sertorian wars.
KEYWORDS: IBERIAN ARCHAEOLOGY, IRON AGE, RURAL HABITAT, ROMANIZATION, CULTURAL RESILIENCE, METALLURGY